Sweet, smoky, sharp, and creamy; this easy-to-make dessert can also be served cold on a warm summer night. Pair with California Pinot Noir or Viognier.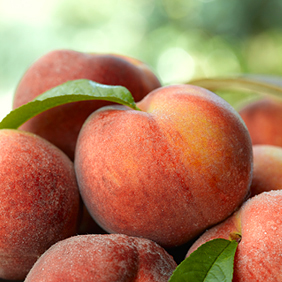 Ingredients
8 ripe yellow peaches, halved, seeded and lightly brushed with extra virgin olive oil
¾ cup (180ml) aged balsamic vinegar
¼ cup (45g) light brown sugar
½ cup (120ml) heavy cream
1 teaspoon (5ml) sugar
Serves 8
---
---
Directions
Stir the balsamic vinegar and sugar together in a small saucepan and simmer over medium heat until the mixture has reduced by half.
Once the mixture has reduced, remove from the heat and allow to cool completely.
Heat a grill or grill pan on medium-high heat
Place the peach halves on the grill, flesh side down and grill for about 5 minutes.
Flip the peaches and grill for an additional 3 minutes.
Remove from the grill and allow them to cool slightly.
Place the cream and sugar in a medium-size bowl and whip together with a hand mixer on high speed until soft peaks form.
Drizzle the balsamic reduction over the peach halves and top each with a small dollop of cream.
Share this